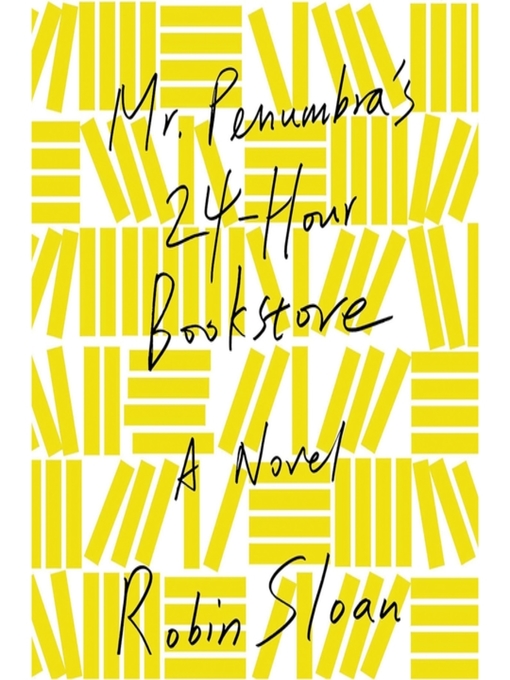 Advantage Digital Collection
Mr. Penumbra's 24-hour bookstore Mr. Penumbra's 24-Hour Bookstore Series, Book 1
New York : Macmillan Audio, 2012.
1 online resource (7 audio files) : digital.
After just a few days on the job working the night shift at Mr. Penumbra's 24-Hour Bookstore, Clay begins to realize that this store is even more curious than the name suggests. There are only a few customers, but they come in repeatedly and never seem to actually buy anything, instead "checking out" impossibly obscure volumes from strange corners of the store, all according to some elaborate, long-standing arrangement with the gnomic Mr. Penumbra. The store must be a front for something larger, Clay concludes, and soon he's embarked on a complex analysis of the customers' behavior and roped his friends into helping to figure out just what's going on.
Online
Sora Audiobook

Access Digital Media
| | |
| --- | --- |
| ISBN: | |
| Author: | |
| Title: | Mr. Penumbra's 24-hour bookstore [electronic resource] : Mr. Penumbra's 24-Hour Bookstore Series, Book 1 / Robin Sloan. |
| Edition: | Unabridged. |
| Publisher: | New York : Macmillan Audio, 2012. |
| Physical: | 1 online resource (7 audio files) : digital. |
| ContentType: | |
| MediaType: | |
| MediaType: | |
| CarrierType: | |
| Series: | |
| Notes: | Unabridged. |
| ParticipantNote: | Narrator: Ari Fliakos. |
| Summary: | After just a few days on the job working the night shift at Mr. Penumbra's 24-Hour Bookstore, Clay begins to realize that this store is even more curious than the name suggests. There are only a few customers, but they come in repeatedly and never seem to actually buy anything, instead "checking out" impossibly obscure volumes from strange corners of the store, all according to some elaborate, long-standing arrangement with the gnomic Mr. Penumbra. The store must be a front for something larger, Clay concludes, and soon he's embarked on a complex analysis of the customers' behavior and roped his friends into helping to figure out just what's going on. |
| Subject: | |
| Subject: | |
| Subject: | |
| Subject: | |
| AE:PersName: | |
| Link: | |
| Link: | |
| Link: | |
| Link: | |
| Field | Ind | Subfield | Data |
| --- | --- | --- | --- |
| 001 Control No | | | 34551 |
| 005 LastTransaction | | | 20190917124139.0 |
| 006 Data Elem Addl | | | m h |
| 007 Phys Desc Fixed | | | cr una--- |
| 007 Phys Desc Fixed | | | sz usn nn ed |
| 008 Data Elements | | | 130827s2012 nyu s 000 1 eng d |
| 020 ISBN | | $a ISBN | 978-1-42722743-0 (sound recording) |
| 035 System Ctrl No | | $a System control number | ODN0001052742 |
| 037 Acq Source | | $a Stock number | FAF182E5-2F05-4729-B2CD-139D6BB0B19E |
| | | $b Source of stock no/acquisition | OverDrive, Inc. |
| | | $n Note | http://www.overdrive.com |
| 040 Cataloging Src | | $a Original cataloging agency | TEFOD |
| | | $c Transcribing agency | TEFOD |
| 084 Other Class No | | $a Classification number | FIC019000 |
| | | $a Classification number | FIC036000 |
| | | $a Classification number | FIC061000 |
| | | $2 Source of number | bisacsh |
| 100 ME:PersonalName | 1 | $a Personal name | Sloan, Robin. |
| 245 Title | 10 | $a Title | Mr. Penumbra's 24-hour bookstore |
| | | $h Medium | [electronic resource] : |
| | | $b Remainder of title | Mr. Penumbra's 24-Hour Bookstore Series, Book 1 / |
| | | $c Statement of responsibility | Robin Sloan. |
| 250 Edition | | $a Edition statement | Unabridged. |
| 260 PublicationInfo | | $a Place of publication, dist. | New York : |
| | | $b Name of publisher, dist, etc | Macmillan Audio, |
| | | $c Date of publication, dist, etc | 2012. |
| 300 Physical Desc | | $a Extent | 1 online resource (7 audio files) : |
| | | $b Other physical details | digital. |
| 306 Playing Time | | $a Playing time | 07:41:38 |
| 336 ContentType | | $a Content type term | spoken word |
| | | $b Content type code | spw |
| | | $2 Source | rdacontent |
| 337 MediaType | | $a Media type term | audio |
| | | $b Media type code | s |
| | | $2 Source | rdamedia |
| 337 MediaType | | $a Media type term | computer |
| | | $b Media type code | c |
| | | $2 Source | rdamedia |
| 338 CarrierType | | $a Carrier type term | online resource |
| | | $b Carrier type code | cr |
| | | $2 Source | rdacarrier |
| 347 DigitalFileType | | $a File type | audio file |
| | | $2 Source | rda |
| 490 SeriesStatement | 0 | $a Series statement | Mr. Penumbra's 24-Hour Bookstore. |
| 500 General Note | | $a General note | Unabridged. |
| 511 ParticipantNote | 0 | $a Participant or performer note | Narrator: Ari Fliakos. |
| 520 Summary | | $a Summary, etc. note | After just a few days on the job working the night shift at Mr. Penumbra's 24-Hour Bookstore, Clay begins to realize that this store is even more curious than the name suggests. There are only a few customers, but they come in repeatedly and never seem to actually buy anything, instead "checking out" impossibly obscure volumes from strange corners of the store, all according to some elaborate, long-standing arrangement with the gnomic Mr. Penumbra. The store must be a front for something larger, Clay concludes, and soon he's embarked on a complex analysis of the customers' behavior and roped his friends into helping to figure out just what's going on. |
| 538 Technical | | $a Technical details note | Requires OverDrive Listen (file size: N/A KB) or OverDrive app (file size: 216803 KB). |
| 650 Subj:Topic | 17 | $a Topical term | Fiction. |
| | | $2 Source of heading or term | OverDrive |
| 650 Subj:Topic | 7 | $a Topical term | Fantasy. |
| | | $2 Source of heading or term | OverDrive |
| 650 Subj:Topic | 7 | $a Topical term | Literature. |
| | | $2 Source of heading or term | OverDrive |
| 650 Subj:Topic | 7 | $a Topical term | Thriller. |
| | | $2 Source of heading or term | OverDrive. |
| 655 IT:Genre | 7 | $a Genre/form data or focus term | Electronic books. |
| | | $2 Source of term | local. |
| 700 AE:PersName | 1 | $a Personal name | Fliakos, Ari. |
| 852 Holdings | 81 | $a Location | PS |
| | | $p Barcode | 7715981127 |
| | | $9 Cost | $0.00 |
| | | $h Classification part | Advantage Digital Collection |
| 856 ElectronicLocat | 40 | $u Uniform Resource Identifier | http://link.overdrive.com/?websiteID=201439&titleID=1052742 |
| | | $z Public note | Click to access digital title. |
| 856 ElectronicLocat | 4 | $3 Materials specified | Excerpt |
| | | $u Uniform Resource Identifier | https://samples.overdrive.com/?crid=FAF182E5-2F05-4729-B2CD-139D6BB0B19E&.epub-sample.overdrive.com |
| | | $z Public note | Sample |
| 856 ElectronicLocat | 4 | $3 Materials specified | Image |
| | | $u Uniform Resource Identifier | https://img1.od-cdn.com/ImageType-100/1493-1/%7BFAF182E5-2F05-4729-B2CD-139D6BB0B19E%7DImg100.jpg |
| | | $z Public note | Large cover image |
| 856 ElectronicLocat | 4 | $3 Materials specified | Thumbnail |
| | | $u Uniform Resource Identifier | https://img1.od-cdn.com/ImageType-200/1493-1/%7BFAF182E5-2F05-4729-B2CD-139D6BB0B19E%7DImg200.jpg |
| | | $z Public note | Thumbnail cover image |