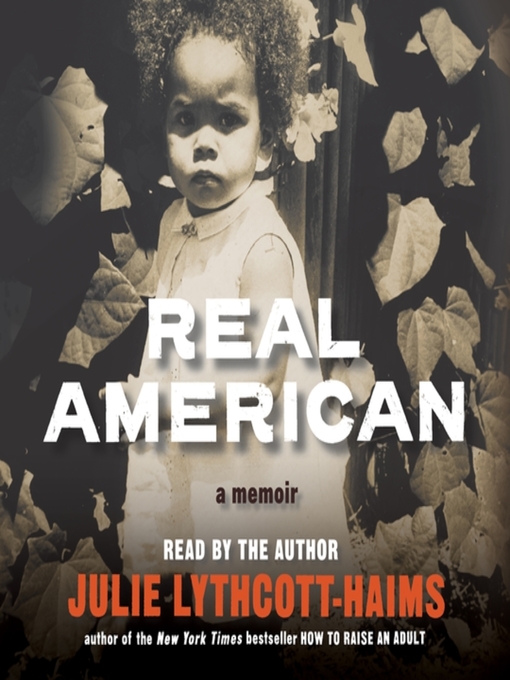 Advantage Digital Collection
Real american A Memoir
New York : Macmillan Audio, 2017.
1 online resource (6 audio files) : digital.
Author Julie Lythcott-Haims pulls no punches in her recollections of growing up a biracial black woman in America. Bringing a poetic sensibility to her prose to stunning effect, Lythcott-Haims briskly and stirringly evokes her personal battle with the low self-esteem that American racism routinely inflicts on people of color. The only child of a marriage between an African-American father and a white British mother, she shows indelibly how so-called "micro" aggressions in addition to blunt force insults can puncture a person's inner life with a thousand sharp cuts. courage and compassion.
Online
Sora Audiobook

Access Digital Media
| | |
| --- | --- |
| ISBN: | |
| Author: | |
| Title: | Real american [electronic resource] : A Memoir / Julie Lythcott-Haims. |
| Edition: | Unabridged. |
| Publisher: | New York : Macmillan Audio, 2017. |
| Physical: | 1 online resource (6 audio files) : digital. |
| ContentType: | |
| MediaType: | |
| MediaType: | |
| CarrierType: | |
| Notes: | Unabridged. |
| ParticipantNote: | Narrator: Julie Lythcott-Haims. |
| Summary: | Author Julie Lythcott-Haims pulls no punches in her recollections of growing up a biracial black woman in America. Bringing a poetic sensibility to her prose to stunning effect, Lythcott-Haims briskly and stirringly evokes her personal battle with the low self-esteem that American racism routinely inflicts on people of color. The only child of a marriage between an African-American father and a white British mother, she shows indelibly how so-called "micro" aggressions in addition to blunt force insults can puncture a person's inner life with a thousand sharp cuts. courage and compassion. |
| Subject: | |
| Subject: | |
| Subject: | |
| Subject: | |
| AE:PersName: | |
| Link: | |
| Link: | |
| Link: | |
| Link: | |
| Field | Ind | Subfield | Data |
| --- | --- | --- | --- |
| 001 Control No | | | 34532 |
| 005 LastTransaction | | | 20190913152920.0 |
| 006 Data Elem Addl | | | m h |
| 007 Phys Desc Fixed | | | cr una--- |
| 007 Phys Desc Fixed | | | sz usn nn ed |
| 008 Data Elements | | | 171206s2017 nyu s 000 0 eng d |
| 020 ISBN | | $a ISBN | 978-1-42729986-4 (sound recording) |
| 035 System Ctrl No | | $a System control number | ODN0003595685 |
| 037 Acq Source | | $a Stock number | 2147B9DE-467A-4AE0-9AB2-DD91B2B9FF06 |
| | | $b Source of stock no/acquisition | OverDrive, Inc. |
| | | $n Note | http://www.overdrive.com |
| 040 Cataloging Src | | $a Original cataloging agency | TEFOD |
| | | $c Transcribing agency | TEFOD |
| 084 Other Class No | | $a Classification number | SOC031000 |
| | | $a Classification number | BIO002010 |
| | | $2 Source of number | bisacsh |
| 100 ME:PersonalName | 1 | $a Personal name | Lythcott-Haims, Julie. |
| 245 Title | 10 | $a Title | Real american |
| | | $h Medium | [electronic resource] : |
| | | $b Remainder of title | A Memoir / |
| | | $c Statement of responsibility | Julie Lythcott-Haims. |
| 250 Edition | | $a Edition statement | Unabridged. |
| 260 PublicationInfo | | $a Place of publication, dist. | New York : |
| | | $b Name of publisher, dist, etc | Macmillan Audio, |
| | | $c Date of publication, dist, etc | 2017. |
| 300 Physical Desc | | $a Extent | 1 online resource (6 audio files) : |
| | | $b Other physical details | digital. |
| 306 Playing Time | | $a Playing time | 06:35:51 |
| 336 ContentType | | $a Content type term | spoken word |
| | | $b Content type code | spw |
| | | $2 Source | rdacontent |
| 337 MediaType | | $a Media type term | audio |
| | | $b Media type code | s |
| | | $2 Source | rdamedia |
| 337 MediaType | | $a Media type term | computer |
| | | $b Media type code | c |
| | | $2 Source | rdamedia |
| 338 CarrierType | | $a Carrier type term | online resource |
| | | $b Carrier type code | cr |
| | | $2 Source | rdacarrier |
| 347 DigitalFileType | | $a File type | audio file |
| | | $2 Source | rda |
| 500 General Note | | $a General note | Unabridged. |
| 511 ParticipantNote | 0 | $a Participant or performer note | Narrator: Julie Lythcott-Haims. |
| 520 Summary | | $a Summary, etc. note | Author Julie Lythcott-Haims pulls no punches in her recollections of growing up a biracial black woman in America. Bringing a poetic sensibility to her prose to stunning effect, Lythcott-Haims briskly and stirringly evokes her personal battle with the low self-esteem that American racism routinely inflicts on people of color. The only child of a marriage between an African-American father and a white British mother, she shows indelibly how so-called "micro" aggressions in addition to blunt force insults can puncture a person's inner life with a thousand sharp cuts. courage and compassion. |
| 538 Technical | | $a Technical details note | Requires OverDrive Listen (file size: N/A KB) or OverDrive app (file size: 185576 KB). |
| 650 Subj:Topic | 17 | $a Topical term | Nonfiction. |
| | | $2 Source of heading or term | OverDrive |
| 650 Subj:Topic | 7 | $a Topical term | African American Nonfiction. |
| | | $2 Source of heading or term | OverDrive |
| 650 Subj:Topic | 7 | $a Topical term | Biography & Autobiography. |
| | | $2 Source of heading or term | OverDrive |
| 650 Subj:Topic | 7 | $a Topical term | Sociology. |
| | | $2 Source of heading or term | OverDrive. |
| 655 IT:Genre | 7 | $a Genre/form data or focus term | Electronic books. |
| | | $2 Source of term | local. |
| 700 AE:PersName | 1 | $a Personal name | Lythcott-Haims, Julie. |
| 852 Holdings | 81 | $a Location | PS |
| | | $p Barcode | 7715981106 |
| | | $9 Cost | $0.00 |
| | | $h Classification part | Advantage Digital Collection |
| 856 ElectronicLocat | 40 | $u Uniform Resource Identifier | http://link.overdrive.com/?websiteID=201439&titleID=3595685 |
| | | $z Public note | Click to access digital title. |
| 856 ElectronicLocat | 4 | $3 Materials specified | Excerpt |
| | | $u Uniform Resource Identifier | https://samples.overdrive.com/?crid=2147b9de-467a-4ae0-9ab2-dd91b2b9ff06&.epub-sample.overdrive.com |
| | | $z Public note | Sample |
| 856 ElectronicLocat | 4 | $3 Materials specified | Image |
| | | $u Uniform Resource Identifier | https://img1.od-cdn.com/ImageType-100/1493-1/%7B2147B9DE-467A-4AE0-9AB2-DD91B2B9FF06%7DImg100.jpg |
| | | $z Public note | Large cover image |
| 856 ElectronicLocat | 4 | $3 Materials specified | Thumbnail |
| | | $u Uniform Resource Identifier | https://img1.od-cdn.com/ImageType-200/1493-1/%7B2147B9DE-467A-4AE0-9AB2-DD91B2B9FF06%7DImg200.jpg |
| | | $z Public note | Thumbnail cover image |