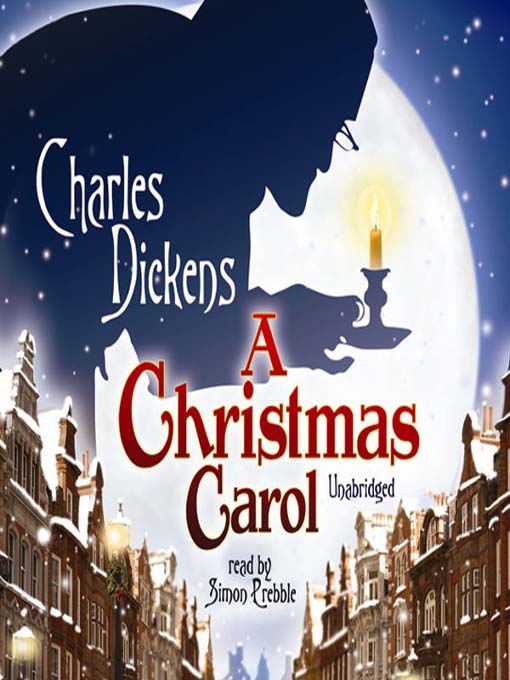 Advantage Digital Collection
A christmas carol
Ashland : Blackstone Publishing, 2007.
1 online resource (4 audio files) : digital.
"Every idiot who goes about with €€˜Merry Christmas' on his lips should be boiled with his own pudding," says Scrooge. Mean old Scrooge despises Christmas, until Christmas Eve, when a haunted voice from the past changes his life€€"€€"overnight! Many know the story, but few have experienced the marvel of the book. If you are one who has never read this family classic, this is the time to do so. Listen to our unabridged recording and make this a truly Charles Dickens Christmas. And, "God bless us, everyone!".
Online
Sora Audiobook

Access Digital Media
| | |
| --- | --- |
| ISBN: | |
| Author: | |
| Title: | |
| Edition: | Unabridged. |
| Publisher: | Ashland : Blackstone Publishing, 2007. |
| Physical: | 1 online resource (4 audio files) : digital. |
| ContentType: | |
| MediaType: | |
| MediaType: | |
| CarrierType: | |
| Notes: | Unabridged. |
| ParticipantNote: | Narrator: Simon Prebble. |
| Summary: | "Every idiot who goes about with €€˜Merry Christmas' on his lips should be boiled with his own pudding," says Scrooge. Mean old Scrooge despises Christmas, until Christmas Eve, when a haunted voice from the past changes his life€€"€€"overnight! Many know the story, but few have experienced the marvel of the book. If you are one who has never read this family classic, this is the time to do so. Listen to our unabridged recording and make this a truly Charles Dickens Christmas. And, "God bless us, everyone!". |
| Subject: | |
| Subject: | |
| AE:PersName: | |
| Link: | |
| Link: | |
| Link: | |
| Link: | |
| Field | Ind | Subfield | Data |
| --- | --- | --- | --- |
| 001 Control No | | | 34536 |
| 005 LastTransaction | | | 20190917082147.0 |
| 006 Data Elem Addl | | | m h |
| 007 Phys Desc Fixed | | | cr una--- |
| 007 Phys Desc Fixed | | | sz usn nn ed |
| 008 Data Elements | | | 130827s2007 nyu s 000 1 eng d |
| 020 ISBN | | $a ISBN | 978-1-48308953-9 (sound recording) |
| 035 System Ctrl No | | $a System control number | ODN0000150278 |
| 037 Acq Source | | $a Stock number | D2FFD597-747F-48CF-A194-DDE66635E535 |
| | | $b Source of stock no/acquisition | OverDrive, Inc. |
| | | $n Note | http://www.overdrive.com |
| 040 Cataloging Src | | $a Original cataloging agency | TEFOD |
| | | $c Transcribing agency | TEFOD |
| 084 Other Class No | | $a Classification number | FIC004000 |
| | | $a Classification number | FIC058000 |
| | | $2 Source of number | bisacsh |
| 100 ME:PersonalName | 1 | $a Personal name | Dickens, Charles. |
| 245 Title | 12 | $a Title | A christmas carol |
| | | $h Medium | [electronic resource] / |
| | | $c Statement of responsibility | Charles Dickens. |
| 250 Edition | | $a Edition statement | Unabridged. |
| 260 PublicationInfo | | $a Place of publication, dist. | Ashland : |
| | | $b Name of publisher, dist, etc | Blackstone Publishing, |
| | | $c Date of publication, dist, etc | 2007. |
| 300 Physical Desc | | $a Extent | 1 online resource (4 audio files) : |
| | | $b Other physical details | digital. |
| 306 Playing Time | | $a Playing time | 03:09:46 |
| 336 ContentType | | $a Content type term | spoken word |
| | | $b Content type code | spw |
| | | $2 Source | rdacontent |
| 337 MediaType | | $a Media type term | audio |
| | | $b Media type code | s |
| | | $2 Source | rdamedia |
| 337 MediaType | | $a Media type term | computer |
| | | $b Media type code | c |
| | | $2 Source | rdamedia |
| 338 CarrierType | | $a Carrier type term | online resource |
| | | $b Carrier type code | cr |
| | | $2 Source | rdacarrier |
| 347 DigitalFileType | | $a File type | audio file |
| | | $2 Source | rda |
| 500 General Note | | $a General note | Unabridged. |
| 511 ParticipantNote | 0 | $a Participant or performer note | Narrator: Simon Prebble. |
| 520 Summary | | $a Summary, etc. note | "Every idiot who goes about with €€˜Merry Christmas' on his lips should be boiled with his own pudding," says Scrooge. Mean old Scrooge despises Christmas, until Christmas Eve, when a haunted voice from the past changes his life€€"€€"overnight! Many know the story, but few have experienced the marvel of the book. If you are one who has never read this family classic, this is the time to do so. Listen to our unabridged recording and make this a truly Charles Dickens Christmas. And, "God bless us, everyone!". |
| 538 Technical | | $a Technical details note | Requires OverDrive Listen (file size: N/A KB) or OverDrive app (file size: 89202 KB). |
| 650 Subj:Topic | 17 | $a Topical term | Fiction. |
| | | $2 Source of heading or term | OverDrive |
| 650 Subj:Topic | 7 | $a Topical term | Classic Literature. |
| | | $2 Source of heading or term | OverDrive. |
| 655 IT:Genre | 7 | $a Genre/form data or focus term | Electronic books. |
| | | $2 Source of term | local. |
| 700 AE:PersName | 1 | $a Personal name | Prebble, Simon. |
| 852 Holdings | 81 | $a Location | PS |
| | | $p Barcode | 7715981112 |
| | | $9 Cost | $0.00 |
| | | $h Classification part | Advantage Digital Collection |
| 856 ElectronicLocat | 40 | $u Uniform Resource Identifier | http://link.overdrive.com/?websiteID=201439&titleID=150278 |
| | | $z Public note | Click to access digital title. |
| 856 ElectronicLocat | 4 | $3 Materials specified | Excerpt |
| | | $u Uniform Resource Identifier | https://samples.overdrive.com/?crid=D2FFD597-747F-48CF-A194-DDE66635E535&.epub-sample.overdrive.com |
| | | $z Public note | Sample |
| 856 ElectronicLocat | 4 | $3 Materials specified | Image |
| | | $u Uniform Resource Identifier | https://img1.od-cdn.com/ImageType-100/0887-1/%7BD2FFD597-747F-48CF-A194-DDE66635E535%7DImg100.jpg |
| | | $z Public note | Large cover image |
| 856 ElectronicLocat | 4 | $3 Materials specified | Thumbnail |
| | | $u Uniform Resource Identifier | https://img1.od-cdn.com/ImageType-200/0887-1/%7BD2FFD597-747F-48CF-A194-DDE66635E535%7DImg200.jpg |
| | | $z Public note | Thumbnail cover image |