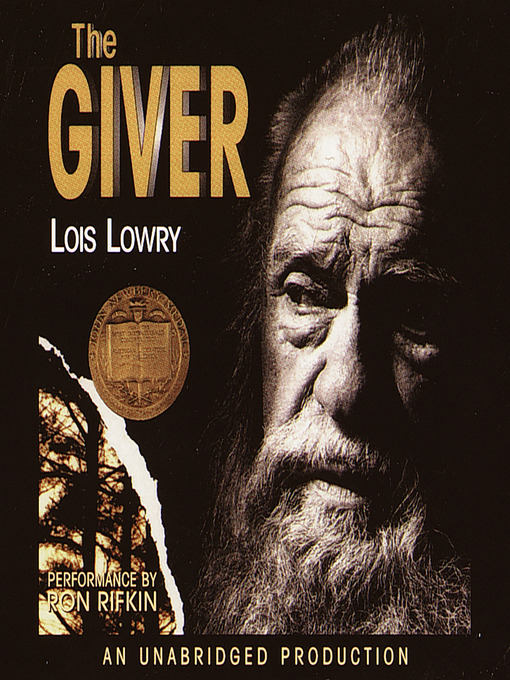 Advantage Digital Collection
The giver The Giver Quartet, Book 1
New York : Listening Library (Audio), 2006.
1 online resource (4 audio files) : digital.
Lois Lowry's The Giver is the quintessential dystopian novel, followed by its remarkable companions, Gathering Blue , Messenge r, and Son . Jonas's world is perfect. Everything is under control. There is no war or fear of pain. There are no choices. Every person is assigned a role in the community. When Jonas turns 12 he is singled out to receive special training from The Giver. The Giver alone holds the memories of the true pain and pleasure of life. Now, it is time for Jonas to receive the truth. There is no turning back.
Online
Sora Audiobook

Access Digital Media
| | |
| --- | --- |
| ISBN: | |
| Author: | |
| Title: | The giver [electronic resource] : The Giver Quartet, Book 1 / Lois Lowry. |
| Edition: | Unabridged. |
| Publisher: | New York : Listening Library (Audio), 2006. |
| Physical: | 1 online resource (4 audio files) : digital. |
| ContentType: | |
| MediaType: | |
| MediaType: | |
| CarrierType: | |
| Series: | |
| Notes: | Unabridged. |
| ParticipantNote: | Narrator: Ron Rifkin. |
| Summary: | Lois Lowry's The Giver is the quintessential dystopian novel, followed by its remarkable companions, Gathering Blue , Messenge r, and Son . Jonas's world is perfect. Everything is under control. There is no war or fear of pain. There are no choices. Every person is assigned a role in the community. When Jonas turns 12 he is singled out to receive special training from The Giver. The Giver alone holds the memories of the true pain and pleasure of life. Now, it is time for Jonas to receive the truth. There is no turning back. |
| Subject: | |
| Subject: | |
| Subject: | |
| AE:PersName: | |
| Link: | |
| Link: | |
| Link: | |
| Link: | |
| Field | Ind | Subfield | Data |
| --- | --- | --- | --- |
| 001 Control No | | | 34544 |
| 005 LastTransaction | | | 20190917123619.0 |
| 006 Data Elem Addl | | | m h |
| 007 Phys Desc Fixed | | | cr una--- |
| 007 Phys Desc Fixed | | | sz usn nn ed |
| 008 Data Elements | | | 130827s2006 nyu s 000 1 eng d |
| 020 ISBN | | $a ISBN | 978-0-7393-4456-9 (sound recording) |
| 035 System Ctrl No | | $a System control number | ODN0000106336 |
| 037 Acq Source | | $a Stock number | 75EA80CA-9E09-4C76-86EC-D2387B03F800 |
| | | $b Source of stock no/acquisition | OverDrive, Inc. |
| | | $n Note | http://www.overdrive.com |
| 040 Cataloging Src | | $a Original cataloging agency | TEFOD |
| | | $c Transcribing agency | TEFOD |
| 084 Other Class No | | $a Classification number | YAF015000 |
| | | $a Classification number | YAF049000 |
| | | $a Classification number | YAF056000 |
| | | $2 Source of number | bisacsh |
| 100 ME:PersonalName | 1 | $a Personal name | Lowry, Lois. |
| 245 Title | 14 | $a Title | The giver |
| | | $h Medium | [electronic resource] : |
| | | $b Remainder of title | The Giver Quartet, Book 1 / |
| | | $c Statement of responsibility | Lois Lowry. |
| 250 Edition | | $a Edition statement | Unabridged. |
| 260 PublicationInfo | | $a Place of publication, dist. | New York : |
| | | $b Name of publisher, dist, etc | Listening Library (Audio), |
| | | $c Date of publication, dist, etc | 2006. |
| 300 Physical Desc | | $a Extent | 1 online resource (4 audio files) : |
| | | $b Other physical details | digital. |
| 306 Playing Time | | $a Playing time | 04:47:50 |
| 336 ContentType | | $a Content type term | spoken word |
| | | $b Content type code | spw |
| | | $2 Source | rdacontent |
| 337 MediaType | | $a Media type term | audio |
| | | $b Media type code | s |
| | | $2 Source | rdamedia |
| 337 MediaType | | $a Media type term | computer |
| | | $b Media type code | c |
| | | $2 Source | rdamedia |
| 338 CarrierType | | $a Carrier type term | online resource |
| | | $b Carrier type code | cr |
| | | $2 Source | rdacarrier |
| 347 DigitalFileType | | $a File type | audio file |
| | | $2 Source | rda |
| 490 SeriesStatement | 0 | $a Series statement | The Giver Quartet. |
| 500 General Note | | $a General note | Unabridged. |
| 511 ParticipantNote | 0 | $a Participant or performer note | Narrator: Ron Rifkin. |
| 520 Summary | | $a Summary, etc. note | Lois Lowry's The Giver is the quintessential dystopian novel, followed by its remarkable companions, Gathering Blue , Messenge r, and Son . Jonas's world is perfect. Everything is under control. There is no war or fear of pain. There are no choices. Every person is assigned a role in the community. When Jonas turns 12 he is singled out to receive special training from The Giver. The Giver alone holds the memories of the true pain and pleasure of life. Now, it is time for Jonas to receive the truth. There is no turning back. |
| 538 Technical | | $a Technical details note | Requires OverDrive Listen (file size: N/A KB) or OverDrive app (file size: 135114 KB). |
| 650 Subj:Topic | 17 | $a Topical term | Young Adult Fiction. |
| | | $2 Source of heading or term | OverDrive |
| 650 Subj:Topic | 7 | $a Topical term | Mystery. |
| | | $2 Source of heading or term | OverDrive |
| 650 Subj:Topic | 7 | $a Topical term | Science Fiction. |
| | | $2 Source of heading or term | OverDrive. |
| 655 IT:Genre | 7 | $a Genre/form data or focus term | Electronic books. |
| | | $2 Source of term | local. |
| 700 AE:PersName | 1 | $a Personal name | Rifkin, Ron. |
| 852 Holdings | 81 | $a Location | PS |
| | | $p Barcode | 7715981120 |
| | | $9 Cost | $0.00 |
| | | $h Classification part | Advantage Digital Collection |
| 856 ElectronicLocat | 40 | $u Uniform Resource Identifier | http://link.overdrive.com/?websiteID=201439&titleID=106336 |
| | | $z Public note | Click to access digital title. |
| 856 ElectronicLocat | 4 | $3 Materials specified | Excerpt |
| | | $u Uniform Resource Identifier | https://samples.overdrive.com/?crid=75EA80CA-9E09-4C76-86EC-D2387B03F800&.epub-sample.overdrive.com |
| | | $z Public note | Sample |
| 856 ElectronicLocat | 4 | $3 Materials specified | Image |
| | | $u Uniform Resource Identifier | https://img1.od-cdn.com/ImageType-100/1191-1/%7B75EA80CA-9E09-4C76-86EC-D2387B03F800%7DImg100.jpg |
| | | $z Public note | Large cover image |
| 856 ElectronicLocat | 4 | $3 Materials specified | Thumbnail |
| | | $u Uniform Resource Identifier | https://img1.od-cdn.com/ImageType-200/1191-1/%7B75EA80CA-9E09-4C76-86EC-D2387B03F800%7DImg200.jpg |
| | | $z Public note | Thumbnail cover image |
Editorial Reviews